The purpose of this CXTech Week 13 2023 newsletter is to highlight, with commentary, some of the news stories in CXTech this week. What is CXTech? The C stands for Connectivity, Communications, Collaboration, Conversation, Customer; X for Experience because that's what matters; and Tech because the focus is enablers.
You can sign up here to receive the CXTech News and Analysis by email. Please forward this on if you think someone should join the list. And please let me know any CXTech news I should include.
There will be no CXTech Week 14 as I'll be on vacation, yeah!
Covered this week:
KORE to acquire Twilio IoT unit
TADHack Open 2023 Summary
A very brief review of Enterprise Connect 2023.
People, Gossip, and Frivolous Stuff
Following in the footsteps of Google, Twilio will sell is IoT unit to IoT virtual mobile network operator (MVNO) KORE Wireless Group. For which Twilio receives 10 million shares of KORE common stock, representing around 11.5 percent of its total issued and outstanding shares. That's about $15M. Kore has had a few bumps along the road, just don't do SPACs, they're bad for your company's health.
The acquisition also highlights the importance of packaging cellular connectivity into a managed solution that's easy for enterprises to consume.
At TADSummit 2022 we had a couple of great IoT presentations from Tobias of Twilio's IoT unit. I think he'll be receiving his offer from Kore soon, this could be an opportunity to snatch an excellent IoT person in the transition. Just sayin'.
That was an intense weekend! And it continued into the week as we were also at Enterprise Connect, presenting the Hackathon Report on Tuesday 28th at 3PM. You can see all the TADHack Open videos here, and all the pictures here.
Thank you to Radisys for making TADHack Open possible. And thank you to WebRTC.Ventures for supporting TADHack Open.
This is the 10th year of TADHack, our first event was in 2014. We're immensely proud of the many people involved in TADHack and all they've achieved. During TADHack Open we learned that TADHack regular Ebtesam Al Haque will be joining Microsoft Research Software Analysis and Intelligence in Engineering Systems (SAINTES).
TADHack Global will be on 21/22nd October, just before Informa's Network X. More details coming soon, and please get in touch if you'd like to be involved with TADHack Global.
Here are the winners and thank you to everyone who took part and supported TADHack Open 2023.
First Place, Guardian Care ($1500)
Connecting your loved ones with the care that they deserve, while being remote.
Team: Vikki Horn, Muntaser Syed, Candy Torres
Guardian Care was one of several women dominated teams. We almost achieved equity in the male to female ratio; a first for TADHack. This was Candy's first hackathon, her professor recommended she take part. She wasn't sure she could contribute to a team, and after talking with the hackers, she teamed up with Vikki, and then Muntaser joined their team after lunch.
Second Place, FitBot ($750)
Staying fit is hard. FitBot will help create daily fitness plans and make sure that you follow them by sending emails and calling you when you need motivation.
Team: Mike Cairns.
At around 11PM on Saturday Mike pinged me on TADS Slack, sharing the struggles he was having getting part of his hack working. And that he may have to pass on TADHack Open. I supported him in whatever he chose to do, hackathons can be tough. Shortly after our chat he discovered the road block, and submitted this excellent hack!
Third Place, OneCenter ($750)
OneCenter is a revolutionary software platform that simplifies the process of connecting with call centers. Our platform provides a one-stop solution for individuals and businesses, offering easy access to the call centers of multiple companies in one place.
Team: SHUAIBU ONIVEHU ZIYAD, ALIYU IBRAHIM, NASIRU MUSTAPHA
Adnan Saleem from Radisys Announces the Winners
Here are Adnan's slides.
Enterprise Connect Session, 28th March, Hackathon Report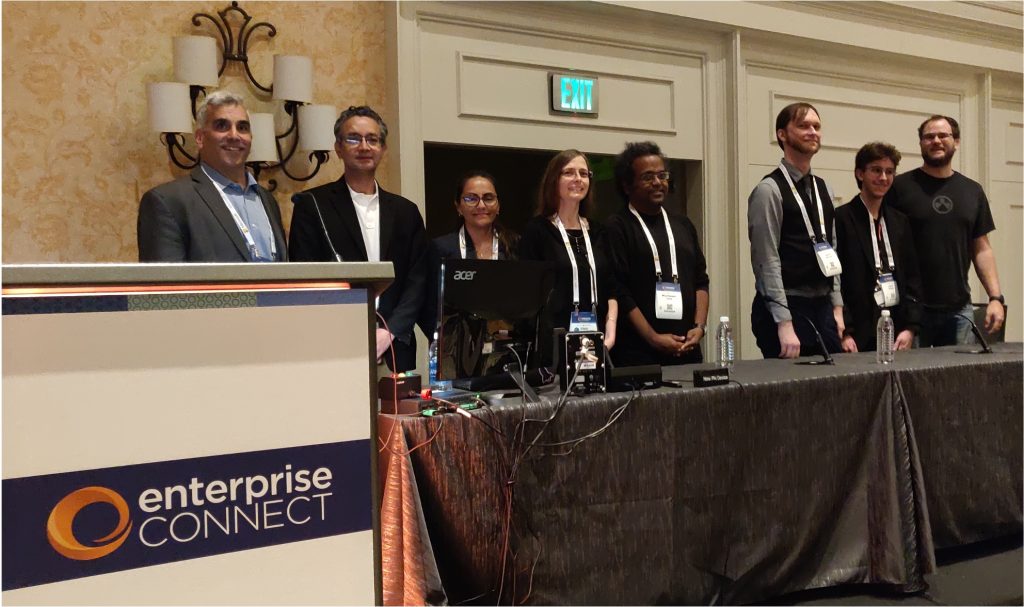 On Tuesday 28th March at 3PM we had the hackathon report at Enterprise Connect.
This is a chance for the EC23 attendees to meet real-live free-range developers, not those in-house developers. Free range developers needs and motivations are different.
I kicked off with an introduction to TADHack and the winners. TADHack has run for 10 years, we've had thousands of pitches and over ten thousand people involved in TADHack over the years. I reviewed FitBot from Mike Cairns, video and slides; and OneCenter by Team OneCredit. video.
I must also give a shout out to GymBro from Team Miracle from Sri Lanka, who are part of Ideamart for Women, video and slides. Every dev community should have their version of Ideamart for women, see the keynote given at TADSummit 2021.
We then moved onto the Orlando-based developers and their pitches. I include their videos from TADHack Open pitch session on Sunday as I do not have a video recording of the EC23 session.
Check out the article for the full EC23 session description.
A very brief and partial review of Enterprise Connect 2023.
vCon at EC23
I was doing some investigations into what people at EC23 thought about vCon. Well of course few people know about it, its early days. The PDF for conversations enabled people to get it immediately. Many presentations showed the problem of vast conversation data lakes, and often just used AI-washing to make the problem go away.
However, that conversation data lake is inedible to robots, trapped in proprietary formats as vendors use conversation data for lock-in. So naturally, an enterprise must buy the incumbent vendor's bot implementations to access some of the data.
The problem of trapped data is vast, wilmac help companies access their voice data trapped in those proprietary formats. Some of the use cases they solve include:
Moving from one vendor to another
Multiple vendors across an organization or through M&A
Meeting local compliance requirements on retention periods
Problems of CCaaS with conversations being stored off-site or off-country.
Conversation spread across multiple platforms, and multiple versions of those platforms.
Redacting sensitive data
Legacy conversation risks and storage costs.
Wilmac have a common format they use to bring all the conversation data together. Naturally vCon could be that format in the future. There's definitely demand from the enterprise and companies like Wilmac solving the problem as a professional service.
Those of you involved in TADHack over the years will recognize the person on the left, its Sacha Nacar, head of partnerships at Theta Lake. Here is a blast from Sacha's past, TADHack London 2015 and 2016.
AI and Digital Washing
At least the cloud-washing has subsided. But the volume of AI and digital washing was surreal. Slides with AI hyphenation everywhere, yet a lack on specifics on the use cases and actual performance improvements.
I compare ChatGPT when asked questions to a summer intern that doesn't understand the business who is asked to produce a summary of topic X. What comes back is half right, half wrong. But you have to work out which. And there are no references. An internet search gives you those references.
Where ChatGPT is powerful is in generating questions, that's where Cognigy uses it with its chatbot framework. Check out the presentation Dave Horton gave at TADSummit Special last week. We're at the beginning of using these tools, there's a long road ahead.
Digital Dividends, Digital Experiences, Digital Channels, Digital Workflows. The only thing I didn't see hyphenated was Digital-AI. Digital is simply a marketing term that means buy our software and magic will happen because we can not simply articulate what we offer.
People, Gossip, and Frivolous Stuff
TADHack regular Ebtesam Al Haque will be joining Microsoft Research Software Analysis and Intelligence in Engineering Systems (SAINTES).
Bircan Ergur Caglayan is now Senior Manager, Digital Product Management and UX / Service Design at Allianz Türkiye. I've known Bircan since her time in Turkcell and being part of TADSummit 2014 in Istanbul.
J.P. Benedict is promoted to the position of Manager Product Management at Telesign.
Aahat Sachdeva is now a Computer Scientist at Adobe
Brad Bush is now Chief Executive Officer at Sensori Robotics. I've known Brad since his Genband days.
Illia Zhyhalinskyi is now Client Engagement Specialist at AltexSoft.
You can sign up here to receive the CXTech News and Analysis by email.